on Tue May 01, 2018 9:37 pm
Message reputation : 100% (1 vote)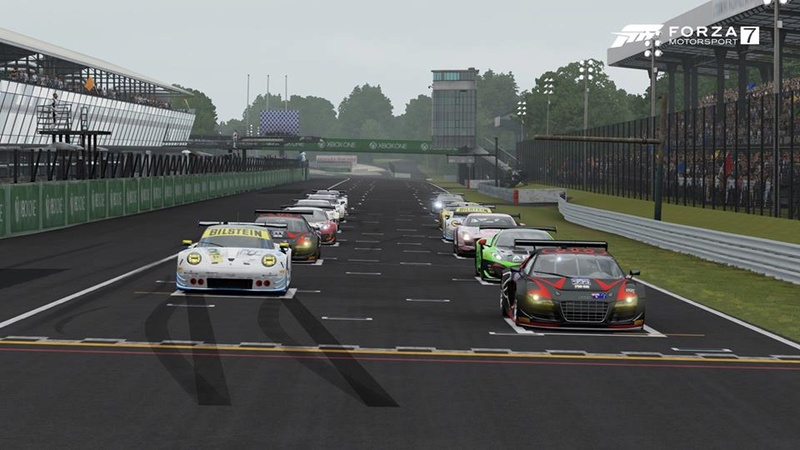 Mention the place Monza to any avid motorsports fan, and it will send shivers up their backs, goosebumps on the arms, and the eventual smile on their face. Monza is of the fastest motorsport tracks in the world. The circuits layout is all about straight line speed which the crowds and those watching at home are just in awe of.
And Round 2 of the Forza Pro League Racing GT3 series did not disappoint, especially in the PRO AM division.
On Saturday afternoon, DAJOKER999 put his OGX Racing Audi R8 on pole with a 1:50.220, just nudging out TLeafniteboy92 by just under 2 tenths of a second, and a whole 5 tenths covering the top 4 places. SCT turn0mik3, although qualified 3rd, was on the radio early in qualifying to his garage complaining about top end speed from his McLaren as he was giving away 15km/h to the Porsche's and Audi's around him.
The return of LILSKEETERBOSS in the second OGX Racing Audi put OGX at full strength after missing round 1 at Hockenhiem due to serious illness.
On Sunday race day, all drivers lined up with no penalties from qualifying. Lights out and DAJOKER999 had an excellent start off the line, with TLeatniteboy92 pulling straight in behind him into the first chicane, where on the exit both went side by side so close that there was barely a piece of paper between them, however DAJOKER999 did have better drive from his Audi and through the Curvé Grandé was able to 3-4 car lengths on the Porsche into the second chicane.
Contact between I WAISTELL I, NITEM4RE UK and FRD CHADDY had all three in the wall on the exit of the first chicane, all suffering relatively minor cosmetic damage, but didn't require an early unscheduled pitstop. LILSKEETERBOSS lost control of his Audi through the Curvé Grandé ending up in the gravel trap and at the back of the pack.
Through the 2 lesmo's it was DAJOKER999, TLeafniteboy92, and SCTturb0mik3 who had already split from the pack and were separated by .5 second, but TLeatniteboy92 got his Team Angry Birds Porsche all out of control in Ascari and that gave SCTturb0mik3 in his McLaren a sniff as they approached parabolica, but the straight line speed of the Porsche was evident as the McLaren was forced to pull in behind the Porsche. NFS Energy must have suffered some damage, as he was forced to pit at the end of lap 1. Daddy STIG, I WAISTELL I, ,MDH SAMBO3108, TYNEURO8, FRD MR ANGRY and LILSKEETERBOSS all line a stern as they cross the line for the first time.
The first 6 laps saw the top three separated by only a few car lengths, with TLeafniteboy92 getting passed DAJOKER999 into the parabolica on lap 6, only to have DAJOKER999 to force him to keep checking the mirrors as he pulled out of the slip stream into the first chicane and kept filling TLeafniteboy92's mirrors with his Audi. But it became evident on lap 8, that DAJOKER999 had used the best of his tires, and began to back off the speed, with SCT turb0mik3 also passing him.
Daddy STIG and Perfect Pringle in the Team Feline Chevrolet were both still complaining on the radio to the garage that they were lacking top end speed as much as 40km/h compared to the Audi's and Porsches. The Audi's running absolute minimum downforce were achieving 285km/h before slamming on the anchors at the fist chicane, with perfect gearing and poweringout of parabolica. The Porsche's were slightly down on that at 280km/h.
FRD CHADDY and NITEM4RE UK were keeping each other company in 4th and 5th in the Porsche and Chevrolet for the first stint also. Swapping positions constantly, swapping paint constantly and occasionally running each other off the track. With LILSKEETERBOSS joining the party on lap 6.
As the first round of scheduled pitstops started around lap 12, the order began to mix up. With teams and drivers thinking of undercuts, and overcuts, as drivers settled into a rhythm for the second stint.
Frustration boiled over from Daddy STIG and Perfect Pringle in the Feline racing Chevrolets after Perfect Pringle ran out of fuel. Many questions were asked and a lot of expletives were heard over the team radio why Perfect Pringle wasn't refuelled during the pit stop.  
After an 80 lap battle, pit stop strategies, swapping paint, many explitives, it was Tleafniteboy92 who took victory in the Team Angry Birds Porsche infront of LILSKEETERBOSS in the OGX Racing Audi, followed by SCT turb9mik3 in the Apex Capital McLaren.
DAJOKER999 home in 4th, followed by NITEM4RE UK in 5th, I WAISTELL I in 6th, NFS Energy home in 7th, MDH SAMBO3108 in 8th, FRD Mr Angry in 9th and TYNEURO8 in 10th, FRD CHADDY and Daddy STIG bringing home 11th and 12th.
DADDY STIG not wanting to talk to anyone after he got out of the car in parc ferme, he seemed to continue to go backwards in his Chevrolet which just lacked speed in all areas, with more questions than answers in that garage.
Questions from the Team Apex Capital garage about top end speed from their McLaren are being asked how they can extract more power from their car. Hopefully at the smaller tighter tracks the McLaren will come into its own.
We stay in Italy for round 3 of the GT3 series, where we travel 300km south to the Mugello Race track, near Florence Italy. A sprint round with a 35 lap race in a very different style circuit. This is turning out to be a very competitive GT3 series, stay tuned for whats to come!!!
report by
@DAJOKER999

Permissions in this forum:
You
cannot
reply to topics in this forum